Crowns
I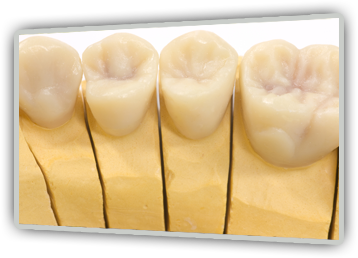 f you're self-conscious about cracked, broken, decayed, or worn teeth, we can bring back your healthy, natural-looking smile with dental crowns, also called caps. A crown can return structure, strength, and function to a tooth with extensive decay or damage. Designed to fit snugly and function as a healthy tooth, a crown will protect your tooth from further damage and preserve the jaw's correct natural alignment.
We use precious metal, porcelain pressed (or fused) to metal, or all-porcelain crowns. Our precise color-matching system allows us to find the right shade of porcelain to blend with your natural tooth color. Porcelain crowns are also extremely durable and long lasting, and these benefits make them popular with dentists as well as patients.
Typically, we can design, fit, and place your crowns in just a couple of short appointments. Once a crown is placed, you can care for it as you do your natural teeth. Conscientious brushing twice a day and daily flossing will protect the base of your crown from bacterial growth. Be sure to see us at least two times each year for professional cleanings and a preventive exam, too.
We invite you to call Commencement Bay Dentistry of Tacoma, WA today to schedule your appointment with Dr. Miller. Our convenient location is accessible to patients from Tacoma and the surrounding areas. We look forward to learning how we can make you smile!